5.1           Award for high academic grade score; University of Belgrade, Yugoslavia, 1960.
5.2           Automotive Safety Foundation Fellowship for Doctoral Studies, University of California, Berkeley, 1964‑65 and 1965‑66.
5.3           M.S. honoris causa ‑ University of Pennsylvania, Philadelphia, 1971.
5.4           International Association of Traffic and Safety Sciences, Tokyo, Visiting Fellowship for a 2-month visit to Japan for research, lecturing and professional exchange; May-June 1979.
5.5           Co‑recipient of the 1980 Urban Design Administration Honor Award given by the Department of Housing and Urban Development for a project on Old City renovation in Philadelphia (as consultant to Venturi & Rauch).
5.6           Recipient of the first "Dr. Friedrich Lehner Medal," given by the "Dr. Friedrich Lehner Stiftung (Endowment)" in Hannover, Germany, to "persons who have dedicated a life work to urban public transportation and excelled in that effort"; received in Munich, 15 June 1982.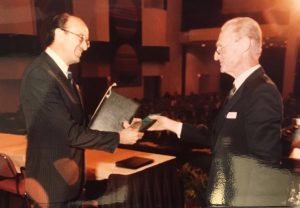 5.7           Senior Guest Fellowship from NATO-CNR; Consiglio Nazionale delle Recerche, Roma, 1987 and at University of Salerno, 1989.
5.8           Awarded the UPS Foundation Chair as Professor of Transportation at the University of Pennsylvania, 1990.
5.9           Transportation Engineer of the Year, Philadelphia Section of the American Society of Civil Engineers (ASCE), 1991.
5.10         Serbian Academy of Sciences and Arts – SANU, Foreign Member, 1994.
5.11         Most Successful among the 1,300 Graduates in Transportation Engineering in the Field of Science; Awarded at the 50th Anniversary of the founding of the Transportation Engineering Faculty, 1950-2000, University of Belgrade, Serbia.
5.12         Given title of Professor Extraordinary in Civil Engineering for 2004-09 period by theUniversity of Stellenbosch, Republic of South Africa.
5.13         Russian Academy for Architecture and Construction Sciences – RAASN, Foreign Member, 2006.
5.14       Wilbur S. Smith Distinguished Transportation Educator Award; Institute of Transportation Engineers (ITE), 2007.
5.15       Member Emeritus, Committees on Light Rail Transit and on Intermodal Transfer Facilities, Transportation Research Board, 2008.
5.16       Appointed Distinguished Corresponding Professor by the Keimyung University, Daegu, Korea for the period 2010-15.
5.17        Vuchic's retirement, University of Pennsylvania, Philadelphia, PA, 11 June 2010.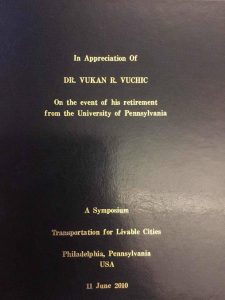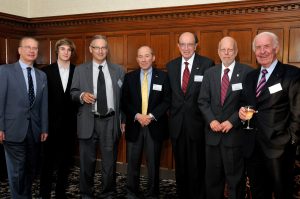 Left-to-right: Andrew Bata, Nicolas Ziv, Jean-Claude Ziv, Robert Buzz Paaswell, Vukan Vuchic, Ross Capon, Wolfgang Meyer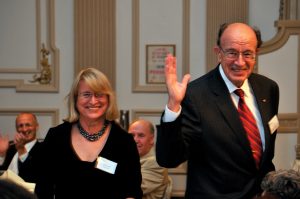 5.18        Awarded Honorary Doctorate – Honoris Causa, at a special ceremony by the Conservatoire National des Arts et Metier – CNAM University, Paris, 10 March 2011.
http://culture.cnam.fr/medias-cnam/remise-des-insignes-de-docteur-honoris-causa-au-professeur-vukan-r-vuchic-367530.kjsp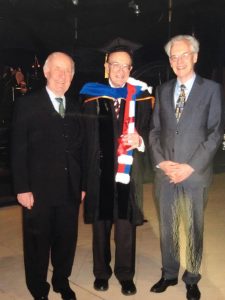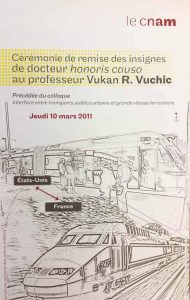 With Drs. Wolfgang Meyer and Adolf Mueller-Hellmann at CNAM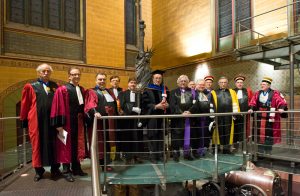 5.19       Obtained an Honorary Fellowship Award by the Land Transport Authority Academy, Singapore, 18 Apr 2011.
5.20      Recipient of the first Academic Award by the National Association of Railroad Passengers – NARP, Alexandria, VA, 2 May 2011.
5.21      Appointed Member of the Hall of Fame of the Delaware Valley Engineers Association; Philadelphia, PA 21 Feb. 2014
5.22     Awarded Honorary Doctorate – Honoris Causa in Environmental Sciences and Commencement Speaker at the University of Waterloo, Waterloo, Canada, 10 June 2014.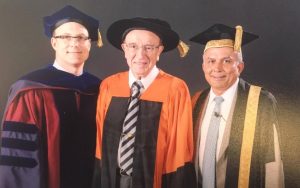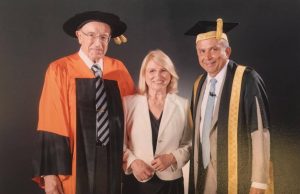 5.23       (Co-recipient with Prof. George Smerk) of the first Lifetime of Academic Distinction Award from the American Public Transportation Association – APTA, Houston, 14 Oct. 2014.